JOIN US THIS FALL
Areté extends the traditional school day, week and year with enhanced experiences that are fully integrated into school communities. Areté is proud to offer
on-site fall programming
for all Lab School families in grades 6-12 participating in blended learning during the school day.
On-line programing
and paid internships provide students in grades 6-12 with afterschool options five days per week.
Arete Internships (2020-2021)
Arete Internships for Mott Haven Youth
2020-2021
This school year, Arete Education is offering three pathways for the Arete Internship - Teaching, Arts, and STEM. All internship pathways allow high school students to explore career options, develop job readiness skills, and give back to the larger school community through service. Apply today.
Teaching Pathway: Arete's Internship Program for Aspiring Education Professionals
The Arete Internship Program actively recruits HS 223 students and recent graduates who are interested in pursuing careers in education and want to develop the prerequisite skills and experiences that will enhance their college applications and job resumes. The interns are trained to provide tutoring and mentoring services to middle schoolers who are struggling in ELA and/or Math. The tutor services are provided during after-school time in a virtual space. Each middle schooler who participates in the program is recommended by their teachers. MS 223 teachers and tutors meet weekly to preview lessons and student-facing materials as a way to enhance the tutors' preparedness. Additionally, tutors develop weekly reports of their students' progress, which are provided to the families and teachers. 
The internship is designed with a service-learning framework. Interns learn about an education issue, are trained on a specific intervention skill and engage in ongoing reflection using data. More specifically, the interns are engaged in intensive professional development in the areas of community outreach, social-emotional learning, curriculum planning and overall job readiness skills. They participate in weekly meetings to track progress toward goals and collaboratively discuss ways to improve. In addition, each intern undergoes 3 observations per term as part of their job readiness evaluation. Their evaluation is comprised of data from observations, student progress reports, family and teacher surveys, as well as, their own self-assessments. 
Interns who successfully complete the program, walk away with an understanding and appreciation for what it takes to support students and families in their community. They also leave with specific job readiness skills that can be applied in many different work or professional settings. This is a paid internship experience.
Learn more: https://www.areteeducation.org/intern-tutors
Arts Pathway: Arete's Internship Program for Aspiring Artist Entrepreneurs
The Arete Internship Program actively recruits youth in Mott Haven to participate in a paid internship experience to work with resident artists in visual and performing arts, deepening their exposure to music production, dance, theatre, and visual arts through mentoring relationships with artists living and working in the Bronx and Harlem. The Arts internship also provides high school students with exposure to the business side of being a working artist with training in marketing, sales, and product distribution. As with all Arete internship pathways, the arts internship provides a space for project-based learning with interns develop a give-back and/or teach-back project to make a positive impact on Mott Haven through the arts.
STEM Pathway: Arete's Internship Program for Aspiring Engineers, Computer Programmers, and Computer Technicians
The Arete Internship Program actively recruits youth in Mott Haven to participate in a paid internship experience to work with professionals in the STEM career cluster, specifically engineers, computer programmers, and computer technicians. Arete interns will develop knowledge in coding, engineering, and maintenance and troubleshooting of computer hardware and software systems. Through our partnerships with Google, the NYC DOE, and STEM 1010, interns will participate in team engineering challenges, take courses in coding, and serve as technicians on the Mouse Squad, giving back to their school communities through assisting staff, students, and families with troubleshooting technology problems.
Interesting in applying for an internship? Visit our job posting online: https://arete.applicantstack.com/x/openings
Regardless of which internship pathway you may be offered, we expect excellent performance in all of the following areas listed below:
Responsibilities & Expectations
Availability to work afterschool and/or weekend hours (8-12 hours per week)

Active participation in (remote/in-person) weekly staff forums, team meetings and professional learning sessions.

Ability to adhere to Arete and NYC DOE guidelines for online conduct.

Access to computer and reliable internet during weekday hours.

Timely arrival to virtual learning synchronous sessions.

A commitment to excellence in your work with others as demonstrated by your positive and caring presence with colleagues and members of school community

Collaboration with colleagues and supervisors

Willingness to reflect on strengths and areas for growth to improve individual and team performance

Friendly and open communication 

Regular communication with supervisors and Arete headquarters staff (email, phone)

Ability to learn and use Zoom and other online learning platforms as needed.

This position is grant-funded and subject to budget considerations
Qualifications
Current high school student at The Laboratory School of Finance and Technology or Walkabout High School.

Prior internship experience with Arete Education preferred

Arete supervisor recommendation to fall internship preferred

Effective written and verbal communication

Ability to:

manage time effectively

go the extra mile and/or try something new

be empathic and listen to others well

proactively identify and resolve problems

be polite, positive, and professional in all communications
Online Programs @223
Please visit this page to find weekly and monthly updates to online program offerings.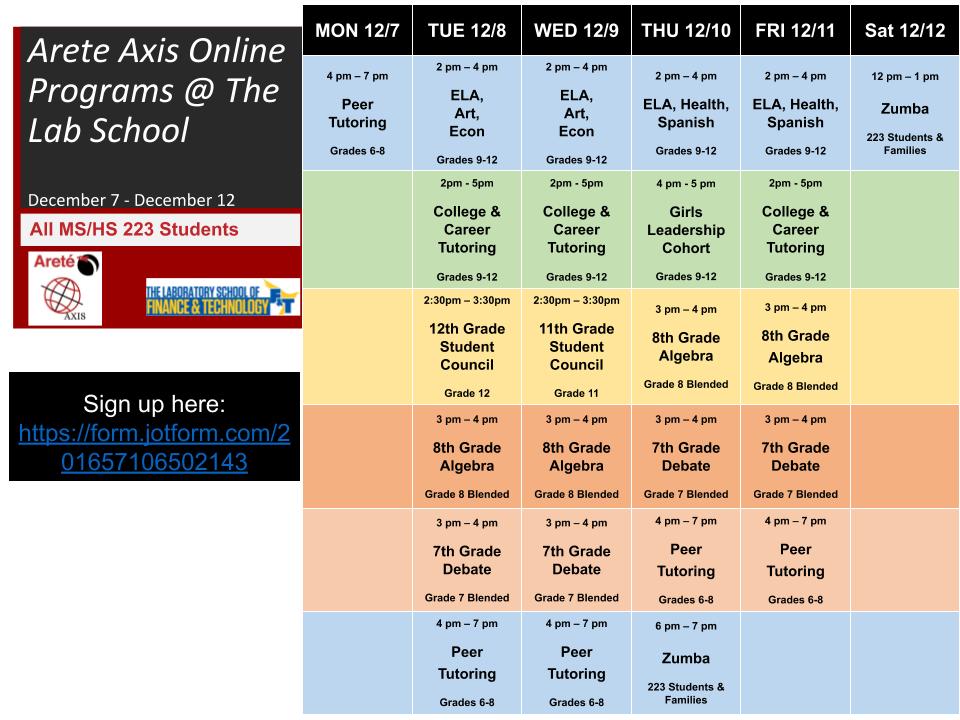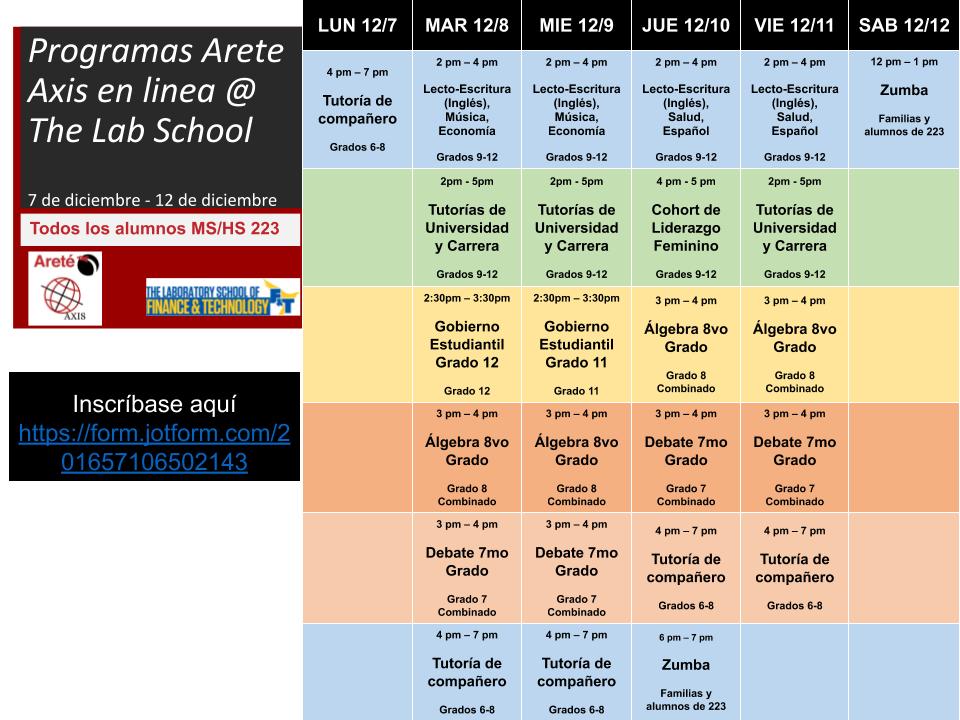 To enroll in activities, please contact Amy Arizmendi.
Please use this link to request to be on the waitlist for peer-tutoring: Tutoring Waitlist Link
ARETÉ EDUCATION
Areté Education is thriving, but the best is yet to come! We have a vision for this program -- to offer even stronger, smarter, and more enriching experiences that propel our students to success. We're ready for the future of Ignite Learning -- help us get there.