Teaching Internship Program Description
The Arete Internship Program recruits outstanding middle and high school students, as well as, alumni from the Lab School who are interested in pursuing careers in the field of education. As interns, they develop job readiness skills and experiences that enhance their college applications and job resumes. Interns are specifically trained to provide up to 5 hours per week of tutoring and mentoring services to middle schoolers who are struggling with remote learning assignments. The free virtual Tutor Program takes place during after school time (Monday - Friday, between 4 and 7 PM) in secure grade-level zoom supervised by Arete staff members.

Each student who participates in the virtual Tutor Program is recommended by their teachers and approved by their guardians. Intern-tutors are provided with access to Google Classrooms and communicate with the teachers on a weekly basis in order to better prepare for their tutoring sessions. In order to keep teachers and families informed, tutors email weekly reports of their students' progress.
Interns learn about various education issues, are trained on specific teaching skills and engage in ongoing reflection to improve. Interns receive professional development in the areas of community outreach, social-emotional learning, lesson planning and overall job readiness. They participate in weekly meetings to track progress toward goals and collaboratively discuss ways to improve. In addition, each intern undergoes 3 observations per term as part of their job readiness evaluation. Their evaluation consists of data from observations, student progress reports, family and teacher surveys, as well as, their own self-assessments.
Interns who successfully complete the program, walk away with an understanding and appreciation for what it takes to support students and families in their community. They exit their internship with specific job readiness skills that can be applied in many different types of work and professional settings.

Below is a sample of an intern-tutor's weekly schedule (interns can work up to 8 hours per week)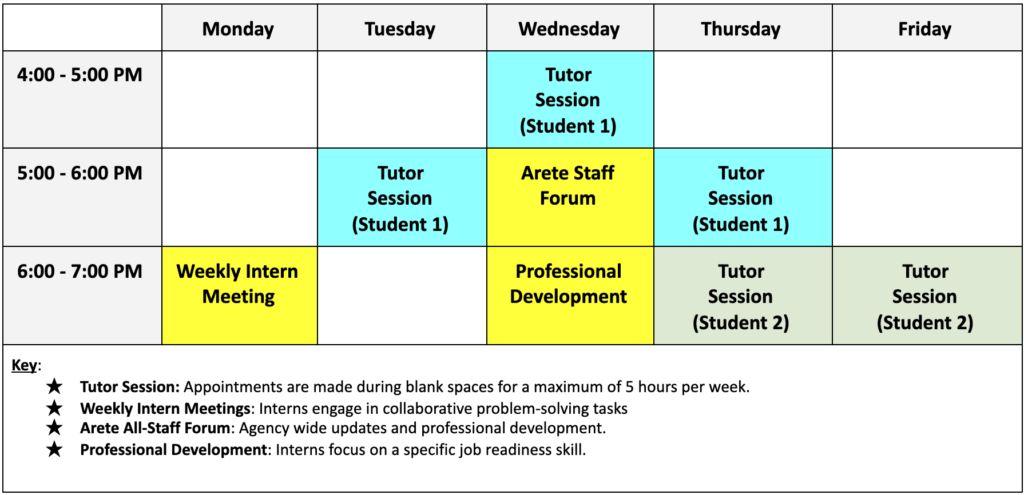 Watch Senior Intern Kailyn Espinosa share what she has learned about planning mini-lessons in this video where she presents a lesson she will use to train new peer-tutors.