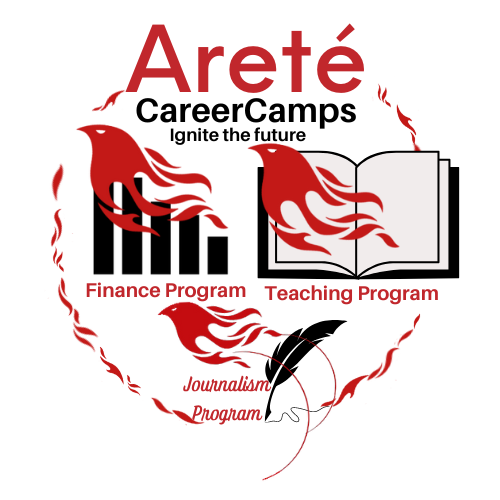 Join Arete's network of professionals this summer to engage students ages 14-22 in an innovative career exposure and networking program: Arete Summer Career Camps. From July 31st to August 11th, we will be engaging students from across the city to explore the careers of Journalism, Finance, and Teaching. For our recently arrived families who are asylum seekers, we will run a specialized bilingual program for career exposure with additional social services supports included. Students who complete one or more Career Camp programs will receive a certificate and stipend check or rapid! Paycard ($15/hour). All interested students should complete our registration form by June 30th. Arete Impact Fellow and alumnus Dinanyelin Martinez will follow up by phone to confirm program dates, locations, and other details and answer student and family questions during the week of July 3rd. Learn more.
Arete campamento de carrera de verano
Únase a la red de profesionales de Arete este verano para involucrar a estudiantes de 14 a 22 años en un innovador programa de exposición profesional y creación de redes: Arete Summer Career Camps. Del 31 de julio al 11 de agosto, estaremos involucrando a estudiantes de toda la ciudad para explorar las carreras de Periodismo, Finanzas y Enseñanza. Para nuestras familias recién llegadas que son solicitantes de asilo, llevaremos a cabo un programa bilingüe especializado para la exposición profesional con apoyos de servicios sociales adicionales incluidos. Los estudiantes que completen uno o más programas Career Camp recibirán un certificado y un cheque de estipendio o rápido! Tarjeta de pago ($15/hora). Todos los estudiantes interesados ​​deben completar nuestro formulario de inscripción antes del 30 de junio. La Becaria de Impacto de Arete y exalumna Dinanyelin Martínez hará un seguimiento por teléfono para confirmar las fechas del programa, las ubicaciones y otros detalles y responderá las preguntas de los estudiantes y las familias durante la semana del 3 de julio.