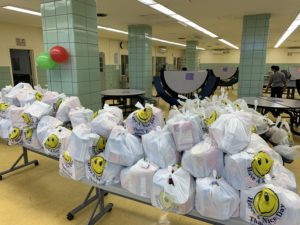 As the spirit of giving continues, Arete continues to reach our mission of investing in Mott Haven youth. As part of Arete's Feed Our Need 2.0 Initiative, members of the community came together to provide over 150 Lab School families with bagged groceries and hot meals. Members of our Arete Alumni Council volunteered to serve the community alongside 25 voluteers from Arete, The Lab School, and the Corporate sponsors of the initiative - IHS Markit, Barclays, and Carvers.
To provide some history on the initiative, in the wake of the COVID-19 pandemic The Collective Black Employee Resource Group (CFBERG), led by Engage@IHSMarkit and Barclays Embrace partnered with Areté Education (Areté) and black- and brown-owned restaurants to raise funds for meal distribution in Harlem and the Bronx in 2020. The initiative's objective was to support black- and brown-owned restaurants in the surrounding areas to source the meals that were distributed to disenfranchised communities. Learn more by viewing our impact report.
Alumni Council President, Brittni Ortiz, reflected on the event:
"Feed Our Needs was an amazing experience, and I would definitely do something like it again. This was a type of event that I wanted to do for a long time. We connected with families, escorted them throughout the whole process and had insightful conversations about what the school is doing and what our roles are. It was also so great to see so many parents that I have worked with before through the College Office. It was a great feeling when some of them recognized me, too! Overall, I can't wait to volunteer at future events and for the Alumni Council to have our own."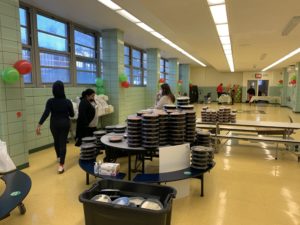 Alumni Council Secretary, Chanel De Los Santos also added on that:
"The feed our needs event was a great way to connect with local families. The families were so lovely and wonderful."
Reflecting as as an Arete staff member and Lab School alumni, it is amazing to be able to provide these direct services to the community. As on organization, it is our goal to make sure that we provide Mott Haven youth and families with these resources. We believe that the sense of hope that comes through creating resilient communities is something that has the power to change our communities forever. We know that our work does not end with an event but continues throughout our lives. We cannot wait to continue the work that we are doing as a team with our staff, alumni and other proud members of the community.
If you want to learn more about the Feed Our Needs 2.0 Initiative Event, visit our event page. We would love your support with a donation or volunteering.
Check out both the Alumni Council's instagram (@aretealumnicouncil) and the main account (@areteeducationinc) to say up to date with the work that is being done.