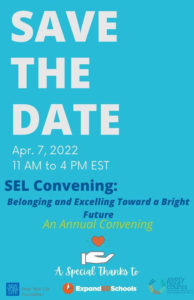 This April, Arete Education had the remarkable honor of joining fellow SEL Educators and exceptional EQ-minded professionals in facilitating the ExpandED Schools SEL Convening 2022: Belonging and Excelling Toward a Bright Future. This annual event was curated to lead members of the SEL educational community in networking and in learning promising SEL practices. Arete was asked to co-facilitate the Breakout Room focused on SEL Frameworks and Models. We shared Arete's SEL Curriculum and the SEL Module II model with a wider audience, and in turn, received numerous SEL resources and praise from others. This 4-part Reflection will share the highlights and takeaways from the Convening and also challenge the readers to join the SEL conversations.
Feel free to explore the resources below:
· Session Slides and Resources (presenter slides/videos)
The Convening was sectioned into four parts. The second portion was The City Artifact Shareout, which is a space for selected SEL Educators and professionals to share the resources they utilized to help guide EQ activities within their communities. This year, seven eager SEL experts volunteered their go-to tools. This article highlights three.
Tozyea Reed (Dallas, TX) - SEL Calm Corner are physical spaces designed to help students check in with themselves. In these spaces are handouts, and hands-on tools for self-awareness and mindfulness.

Kara Hader (Tulsa, OK). - Yale University's Mood Meters are color-coded zones that help students identify their moods and that mood intensity. These meters are helpful in setting up norms and practice for noticing how you feel and then regulating those emotions.

Lavone Walker (Omaha, NE) - Vibratone is a percussion bell that is used to focus group attention. At the sound, SEL student practitioners are intentionally centering.
Other impactful artifacts shared included Cooking Clubs for kids and staff, SEL Calm kits, and stipends geared at SEL initiatives. All of the artifacts provided takeaways that could be specified to our own communities and EQ practices.
The Arete SEL Challenge: Thank you for reading this article. As a part of our growing SEL community, we invite you to join the conversation. Which of Adams's highlighted artifacts interests you the most? Which of the briefly mentioned artifacts would you like to hear more about? Do you have any cool SEL artifacts to share?