In unprecedented times, hate raises; police brutality continues and creates horrible situations for people of color. Which makes you think, why is this still going on in 2020? The truth is that America has not yet evolved to be able to have equality among all races, and with this, it creates deadly scenarios for some people. That makes people fear going outside, fear authority, fear just living in America.
After recent footage of George Floyd getting knelt on by an officer repeating,
"I can't breathe"
the protest broke out, riots followed, as well as various stores in Minneapolis being looted, where the original incident took place. George Floyd was arrested for trying to pay with a counterfeit bill. He was brutally attacked by police for this reason.  People are tired of the racism and are looking to do something about. Once the crowd got "out of control," they were tear gassed, causing many people to get injured and need to push back. When getting tear-gassed, people ran in a local Target to get supplies. Running into this store led to worse things, eventually looting the Target and other big businesses such Dollar Tree and an Auto Zone.
"Ignorance is bliss for the majority, but ignorance is death for the minority."
The same story every time, just a different person. The hatred has to end, and it's not going to take one protest or one person speaking up. It's going to have to be more than that. Racism that happens in the police department is not something that should continue to happen. No one should die because the color of their skin. NO one should be feared because of the color of their skin. This is something more than just one person dying at the cost of a racist police officer. There are so many people who died for reasons they shouldn't have.
Say Their Names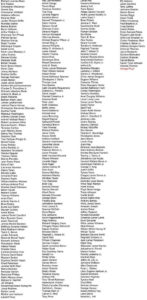 Everyday it's another life that has been lost due to carelessness. Black people should not have to put their lives at risk just to receive equality. It is sad to see how much progress we have not made as a country, to continue to be living in a time like this. Stay educated and stay informed. Stand for what you believe in, and use your voice, because if you don't, injustice will continue.
"If you are neutral in situations of injustice, you have chosen the side of the oppressor"    -Desmond Tutu
As the protest continued, the Minnesota National Guard was activated to help aid officers to be able to control the area. None of this would be needed if there was equality, if a Black person would have not lost their life to an unreasonable matter.
Here are some links to support
Donate: https://www.gofundme.com/f/georgefloyd
Support: https://minnesotafreedomfund.org/donate