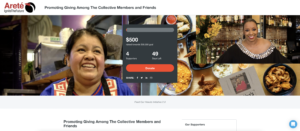 As we approach the season of giving, we request your help and support in bringing awareness to our upcoming event. On November 20th at The Lab School, we will be having our first of three Feed Our Need 2.0 event. Our goal is to feed over 500 families in our community, but we can't do that without the help of you all.
To find out more about the event, be sure to check out online. During this event, families will come in and pick up groceries and freshly prepared foods. There will be student work posted around the hallways to show families what is happening during after-school hours.
With such a large event, there are many ways to support. Other than giving financially, you can also give your time. If you'd like to be volunteer, please fill out this form and we'll follow up with you.
This month of giving is especially important because it allows us to reflect on the work that we are doing. Reflection is essential to our growth and is an important part of the cycle of success. Through our community events, we interact with different families and provide them with the resources that they need. We create bonds and connections with people beyond the typical "hi and bye" conversations. This is how we create a community that is sustainable and strong.
Beyond this event, Arete is fixed on bringing as many resources back into the community as much as possible. Whether it's regarding finding technology, food, groceries, jobs, internships, or volunteering opportunities, Arete is the place to go. As school is back  in person, Arete members have been working nonstop to find amazing resources for students both in middle school and high school. We aim to provide students with volunteer experiences, work experiences, and professional development for when they leave the school building. Investing in these students' success and futures is the only way to keep them motivated and going.
Our vision is to continue growing in numerous ways, and with the help of the community we will be able to do so.