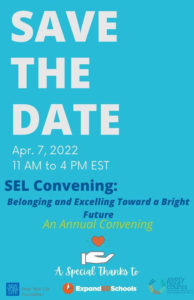 This April, Arete Education had the remarkable honor of joining fellow SEL Educators and exceptional EQ-minded professionals in facilitating the ExpandED Schools SEL Convening 2022: Belonging and Excelling Toward a Bright Future. This annual event was curated to lead members of the SEL educational community in networking and in learning promising SEL practices. Arete was asked to co-facilitate the Breakout Room focused on SEL Frameworks and Models. We shared Arete's SEL Curriculum and the SEL Module II model with a wider audience, and in turn, received numerous SEL resources and praise from others. This 4-part Reflection will share the highlights and takeaways from the Convening and also challenge the readers to join the SEL conversations.

Feel free to explore the resources below:
· Session Slides and Resources (presenter slides/videos)
· Session Recordings

The Convening was sectioned into four parts:
The Welcome and Key Note Speech
The City Artifact Share-out
The City Networking Session,
SEL Professional Development
The keynote speaker was David Adams, CEO of Urban Assembly, and the premise of his presentation was to drive home how Belonging truly influences one's purpose and need for education. The main text of reference was W.E.B Dubois' The Souls of Black Folk. This literary work revealed to Adams several insights. He emphasized three:

     1.) The purpose of Education is to transform from a carefree man to a thoughtful man, and the responsibility of each educated person is to help us all through the struggles and into progress.
     2.) To belong is to understand your responsibility to the group, and the group's responsibility to you. Being named and claimed can be healthy and helpful.
     3.) Burdens are easier to bare if everyone carries their own weight. Keep in mind that the strengths need never be unformed, as long as their benefits are mutual.

In closing, Adams reiterated the importance of belonging to and in educated communities by emphasizing the standstill politics places on education. Adams expressed that when education is guided through teaching rather than learning, a student's scope is narrowed. The solution to teacher-centered education is in our shared characters, groups, and mutually shared experiences.

The Arete SEL Challenge: Thank you for reading this article. As a part of our growing SEL community, we invite you to join the conversation. Which of Adams's three insights were most impactful to your concept of belonging? What are some of the groups you proudly belong to?