Arete interns and staff members once again came together to create the final water activity for the Summer Bridge students this past Friday while still following COVID-19 guidelines. Students came prepared to play and have a bit of fun before the big Showcase event occuring next Thursday on August 5th. This water activity was conducted once again by the ever creative Amy Arizmendi, Secretary and Family Advocate.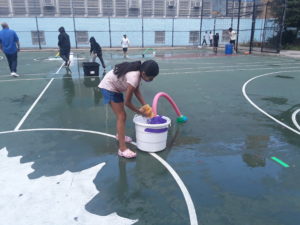 There were 3 stations in this Splish Splash Friday Bash.
Station #1
Consists of the first person in line acting as the catcher, who will need to catch three balloons that will have to be popped over their head to try and catch as much water in the funnel as possible.
As soon as the catcher catches and pops three balloons, they will be able to move on to Station #2.
Station #2
This station has a bucket of water with three sponges. The objective is to soak the three sponges with as much water as possible and while holding it over one's head, squeeze as much as one could into the funnel. 
In Station #3
An inflatable pool is filled with gold coins and water. Each student has to dig and pick up a coin with a number, representing the number of balloons they would grab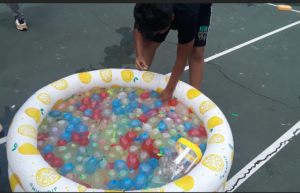 and toss into a bucket.
To conclude this blog we would like to say a heartfelt Thank You! to all the staff members and interns for making this summer extremely successful while following COVID19 safety protocols. 
These fun activities helped students to shift their focus from academic learning and send them home happy after being able to let loose with their friends.