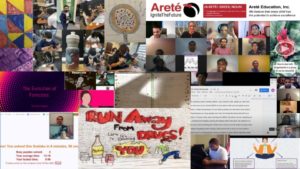 It's Showcase season at Arete once again!
After a roaring success with our first ever virtual showcase in January, we are back!
Wednesday, June 2nd @4pm
This semester's forum features some fresh faces and we are excited to invite the community to join us as we highlight the magnificent work done during our Expanded Day Program.
The showcase offers us an opportunity to hear from many of our students from 6th through 12th grade. Previous submissions ranged from artwork, to writing, to meditation and fresh beats! This year is already shaping up to be another diverse event, as submissions are rolling in to meet our submission deadline.
Our students work hard to bring you top notch work, so please join us on Wednesday, June 2, 2021 from 4-5pm for this event. Click here to RSVP.